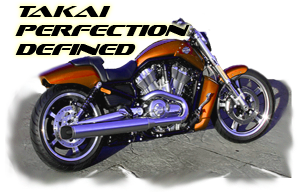 As engineers and enthusiasts TAKAI is a highly innovative forward thinking firm specializing in the development, manufacturing and marketing of high performance equipment.
TAKAI is composed from some of the most talented and aggressive automotive enthusiasts you will find in the performance industry. With over 10 years of electronic engineering, sales and technical support service, TAKAI is known and trusted throughout the industry. As a result, each of its employees solidifies a long proven track record which has created a rock-solid foundation. TAKAI offers some of the most innovative and ground breaking products ever introduced to the performance market.
From electronics to tuning, you will find products that will get your adrenaline pumped up as well as unleash your vehicle's full potential. We guarantee full attention to detail and quality with each product so that you leave knowing you made the right choice!
TEAM TAKAI
Today's engines are designed with high efficiency and higher output than ever before. While this is true, most aspects of the mechanical system are continually undergoing redesigned to take advantage of this increased efficiency with many of the electronic systems as an exception. While mechanical components are redesigned, most electronic applications still use principals designed and adopted from technology discovered and used over 50 years ago. In order for today's engines to take full advantage of newer internal components, they also require the latest electronic and performance enhancing technology to deliver a cleaner more efficient combustion process. This is the only way for an engine to release its highest potential.
TAKAI products are the only powersport equipment parts that take advantage of the latest 20th century advancements in electronic technology improving the overall effectiveness of your vehicles engine. So whether you're racing at the track or taking a leisurely drive your vehicle will accelerate quicker, give crisp part throttle changes, be more powerful and improve your fuel mileage meaning they are investments that pay for themselves!
For the best performance and highest quality products TAKAI is the number one choice among enthusiasts.