Takai racing, is about unleashing more fun, power and response for the ulimate engine performance! With crisp throttle response, smooth engine operation, higher horsepower and a more enjoyable riding experience, our RipFORCE Ignition Coil Systems give it all to you!
In order to have a perfect, and high output combustion event, the fact is you need a high output spark event. Like the old saying goes, you need to put energy into a process to get energy back out of it.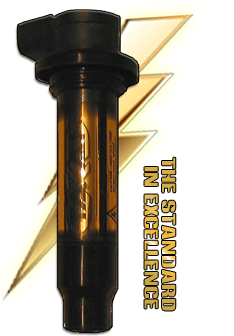 Because of this Takai engineers have developed several high output / highly compact / high energy pencil / stick and cigar style coil on plug ignition coils for all performance oriented powersport engines.
From our Level 1 to our Level 4 RipFORCE4 coil packages (formerly M-Raikou), Takai uses the latest innovations developed and released for all out performance venues and has redefined high performance ignition coil design by increasing output characteristics while reducing size and weight restrictions. Through this TAKAI has also developed an array of coil on plug conversion kits for stock applications that are using a separate ignition coil and wire to maximize the benefit and enhance the engines power delivery!
Using a cost is no object approach in the engineering phase and developed by using existing "COP", coil on plug ignition coil models developed for platforms such as F1, TAKAI has successfully adapted ALL the latest cutting edge technology to bolt on your modern day street or performance oriented vehicles. (*see chart A in technical section below) This allows for the best dollar to horsepower gains available by extending horsepower by an average of +1-2 horsepower and +1-2 torque per cylinder (+4-8 engine horsepower and +4-8 torque common on street orientated 4 cylinder applications) across the rpm band resulting in dramatic engine performance enhancements, as well as vastly improved driving experience due to smoother engine response. RipFORCE high energy ignition coils / super coils, have also been proven to deliver more then 75+hp in high horsepower nitrous and turbocharged drag bike applications.
TAKAI RipFORCE ignition coil caps are also designed to output multiple spark discharge events for improved engine performance and mileage benefits. TaKaI has also coupled a high output "X2 focal core" which helps focus the energy field in the ignition coil for a hotter, higher efficiency spark event. The materials used and the overall design of the TAKAI RipFORCE coils are also made to dramatically reduce energy loss via hysteresis (energy loss in an ignition circuit) vs other designs by as much as 70% ensuring greater engine response, mileage and performance characteristics from your engine. (*see chart B below in technical section)
As a result, energy and spark duration is increased at the spark gap by as much as 50% over conventional designs allowing more fuel to be ignited and more energy to be released in your combustion events untapping the true fury of your engine! This ensures the TAKAI RipFORCE coils start your engine easier, delivers more engine horsepower and deliver superior response and mileage benefits. Surpassing all others in form and function, not only can TAKAI ignition coils improve power output, fuel mileage and part throttle engine characteristics but they also have a proven positive lock spark plug retention mechanism that allows the coil to be screwed onto the spark plug for maximum performance and reliability*. This completely eliminates the coil from inadvertently coming loose from the spark plug while increasing ignition coil electrical transfer efficiency.
RipFORCE Racing Ignition Coil FEATURES include: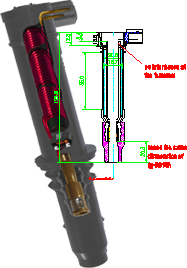 - GRIP ignition coil retention mechanism
- Lifetime Warranty
- X2 FOCAL core technology
- X2 FOCAL output stage
- multiple spark discharge
- complete competition level RFI/EMI protection
- super high output spark
- high quality conductor selections
- ultra efficient power transfer connections
- CNC profiled positive retention connectors
- weather proof dust boots
- extended fuel mileage
- extended horsepower
- interchangeable applications
Get your ride to perform the way you want...
RipFORCE ignition coils are the complete solution for improved reliability, performance and fuel mileage! Every engine needs a performance edge for enhanced performance and reliability. TAKAI ignition coils are just the choice.
Available for most powersport applications including, dirt bike, street bike, snowmobile, jetski, powerboats, ATV's and more! *NOTE - Most applications are supported, call us at 321-400-5959 or contact support@takai-racing.com for details.


ORDER NOW : View Takai Performance RipFORCE Super Ignition Coils