Nothing more puts a smile on the faces of the people at TaKAI then hearing another success story from our customers and sharing their experiences. From Superbike, all the way to our awesome customers, sharing our stories is what puts a smile on our faces. Here are a few.
Rippin fast MC DOC Seadoo RXP!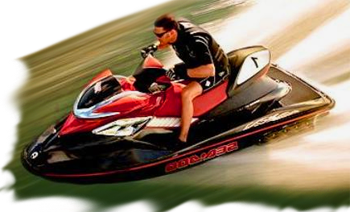 "My Seadoo RXP is modded to the max and has an upgraded supercharger among other mods. It's one of the, if not the fastest RXP in my area. Normally I have to change spark plugs regularly to get it running properly and right before I got the coils I developed a misfire and as usual it was time to change the plugs yet again. Instead of changing the plugs I figured I would try the coils without changing the plugs to see if the coils would help.
Wow... I may have been a bit skeptical at first but let me tell you I was amazed the second I hit the starter button. The engine started immediately and the moment I heard the engine I knew these coils were working better! AWESOME! They are working better than expected! I wanted to let you know and to say thanks for providing such a great product!"
James I. (McDoc)
The BEST parts ever installed on my GSXR1000!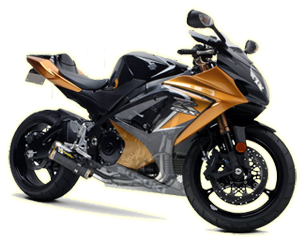 "Hi Mark!
I ordered a super coil kit for my 09 suzuki GSXR1000 in May 2012. I just what to tell you this coil kit is one of the BEST PARTS INSTALLED SO FAR!!!!
Trust me I put on a lot of aftermarket parts on my bike and these are AWESOME!! I just want to tell you how very happy with the coil kit!!!! My bike is running strong! :)"
Thanks, Angelo R.
The awesome story of "Captain" Bob's exceptional Yamaha VMAX
Like all of us, we heard from Captain Bob inquiring about some more go fast parts for his Yamaha VMAX street machine. The Captains VMAX spares no expense and only uses the best proven parts available and lightweight components throughout such as carbon fiber wheels and accessories. His questions were meticulous, cautious and so was his testing. We at TaKAI got the feeling that only the best would make the cut. The story starts with team TaKAI being put on a mission to fit his awesome VMAX with a set of prototype TaKAI RipFORCE VMAX Super Coils to get him the power he needed. TaKAI tuned the coils for the VMAX powerband and sent them to the Captain for some testing.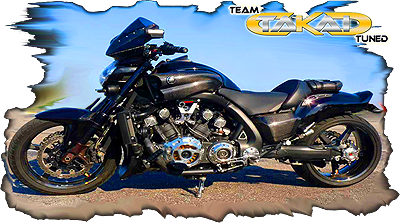 On the dyno, the VMAX registered an extra 3-5 engine horsepower through the curve but as expected from anyone diligent enough to be cautious about his limited edition VMAX, that wasn't good enough. Dyno error can be the cause of the unscrupulous numbers from what seemed like a mere ignition coil change. The questions were still there, and rightfully so, but that's OK because the Captain told us, "I drag race my bike on a regular basis and turn very good consistent times. I stay in the lower 9.90's at 136 -139 trap speed all my 1/8 miles times are within 100th's and my 1/8 mile speed is always 112 - 114. I race and I know what my bike can do down the track." Bob
BELOW ARE THE CORRECTED DYNO RESULTS WITH CELL SMOOTHING.
RESULTS SHOW + 3-5 ENGINE HORSEPOWER ON AVERAGE THROUGH THE BAND.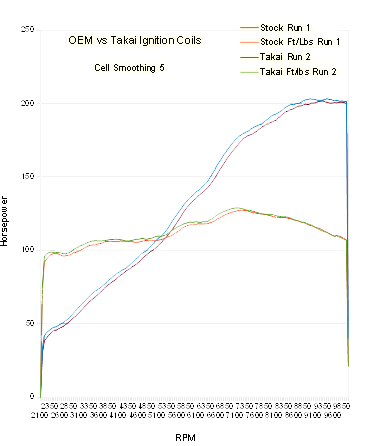 TaKAI, as well as Bob, waited patiently to re-verify the dyno results of the TaKAI ignition coils for his VMAX. The fateful day arrived where him and his piloted machine would hit the drag strip with TaKAI's new RipFORCE super coils for the latest Yamaha VMX1700 street bike.
The final results of the dyno and track testing were complete.
"Finally got to the track and my et's went down and trap speed went up. I was able to break into the 9.80's! A 9.86 was my best pass and my trap speed is what really changed! I have been averaging 136-137 with a best 139. Well 3 passes (with the only change the TaKAI Super Coils) at 144 mph WOW!! ..that's impressive! Right now I'm a happy guy with 2 personal best runs and bragging rights. Thanks."
Bob
BELOW ARE BOB'S ACTUAL TIME SLIPS IMPROVING ETA BY OVER A TENTH IN THE QUARTER MILE WHILE INCREASING TRAP SPEEDS BY 5 MILES AN HOUR OVER PREVIOUS BESTS.
(current best 144mph 9.77seconds, previous best 139pmh 9.90 seconds)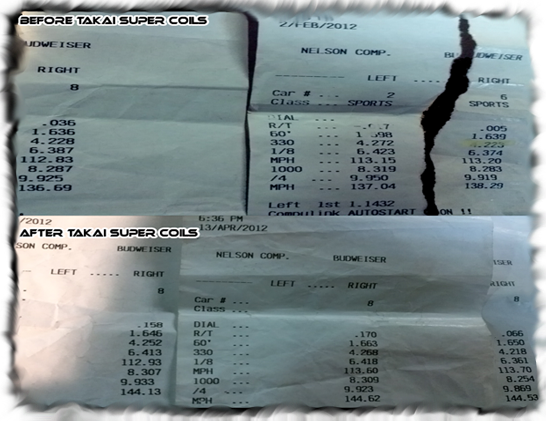 "BTW, update, went back to the track to see if I could back up my 9.80's run. Well I did. Got another 9.88 and two 9.77's I am stoked!" Captain Bob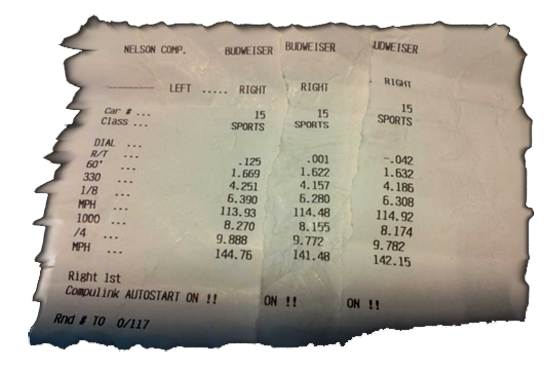 Awesome! Being enthusiasts here at TaKAI we really share the experience with our customers. It isn't simply selling parts, it's about making your ride better, putting a smile on your face and about hearing the success stories with TaKAI products. It's all about giving the best we have to give our customers an advantage, to be part of a family and to further the sport. If your ever ready to share that story and experience TaKAI welcomes you to experience what so many others have already experienced and join the TaKAI team!

Enjoy Bobs 144mph run!

Super Sexy Carbon Yamaha R1 (SSB Cover Bike Sept 2012)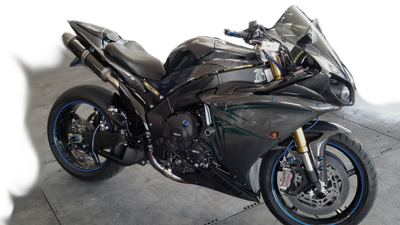 "We ran your ignition coils on the dyno prior to my bike being published in the magazine and after installing the coils my R1 picked up several HP, FT-Lbs of torque across the range. It also starts much easier. Thanks and congrads on a very nice product!"
Steve S.
All the best to our customers and friends part of Team TaKAI!