Introducing TAKAI's PowerCORE Hybrid Performance Ignition Wire
Why are people switching to TAKAI's PowerCORE Performance wire? TAKAI uses the latest cutting edge tecnology using a unique process called "CORE" tech TAKAI uses a unique hybrid winding with outstanding conducting characteristics that is designed to harness the electrical and magnetic energy passing through the wire. TAKAI's construction al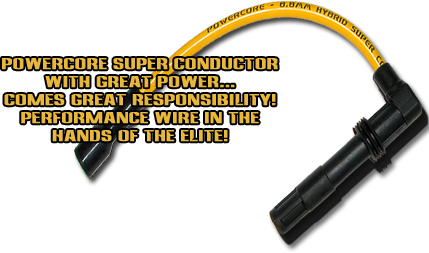 lows for maximum energy transfer and releases energy reserves when your engine needs it the most rather then waste it as heat (resistors and resistor caps) in conventional ignition wire. This allows for maximum energy transfer to the spark plug, helps sustain spark energy over a wider period of time and allows for the best output available vs any other product.
PowerCORE Hybrid Performance wire are the latest innovation available for high output ignition wire allowing for the best possible electrical conductivity. With the capability of our CORE TECH technology, our ignition wire increases energy to the spark plugs over conventional designs. That along with its low resistance nickle plated copper wire offers ideal performance for maximum voltage and current to the spark plug while providing a long / reliable life span in harsh operating environments.
PowerCORE FEATURES :
- Enhanced Engine Power
- Lifetime Warranty
- Enhanced Engine Torque
- Enhanced Fuel Mileage
- CORE TECH construction
- Long life / high quality components
- CORE design for higher voltages and current output!
- Reduced ignition RFI / EMI
- Additional spark energy when you need it
- Improved timing and spark events
- Longer, more powerful output spark events
Other Features
PowerCORE wires also use a graphite / carbon film around the CORE ensuring oxidization does not set in reducing the electrical conductivity of the cable over time. All this ensures reliable operation during every engine start up for the life of your engine.
Along with these benefits, a conductive ferrite impregnated silicon mag core aid in reducing electrical losses, increases the ignition wires pull strength, reduce harmful interferences and successfully improves engine performance and wire lifespan.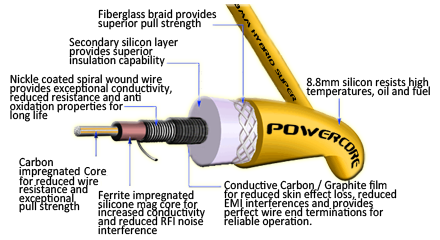 With many other features that improve upon our competitor wires such as, lapping our primary and secondary silicon layers for increased wire insulation and strength there is no other wire that can compete in it's class.
Engineered as the complete balanced package, PowerCORE wire is exactly what hardcore enthusiats are demanding to maintain an advantage on the street and at the track. With components that increase energy output, increase performance over the life of the wire, reduce conventional wire losses, improve engine performance, provide exceptional strength, insulation and resistance to harsh operating environments there is simply no competitor wire available able to match the technology, quality, value, reliability and power output of TAKAI's powersport PowerCORE wire and components.
*NOTE - Most applications can be custom ordered, call us at 321-400-5959 or contact support@takai-racing.com for details.


ORDER NOW : View Takai Performance Powersport Ignition Wires